About Us
Everything You Want to Know About All-Pro Services, Inc.
Washington, DC | Maryland

All-Pro Services, Inc. is one of the leading heating and air conditioning companies in Washington, DC and Maryland specializing in indoor climate control. Our primary goal is to exceed customer satisfaction standards and provide you with high quality service.
We are a licensed, insured and bonded contracting company that provides the service, sale and same-day installation of both residential and light commercial air-conditioning, heating and plumbing equipment throughout the Washington, DC and Maryland areas.
Get to know All-Pro Services' history and mission, detailing our dedication to superior performance and expert service. You will be glad you did!
Company History
We pride ourselves on experience, raising the standard in the heating & cooling industry. Our team members have more than 30 years of experience in the industry, allowing us to provide you with expert service in:
Air-Conditioning
Heating
Plumbing
Duct Services
Maintenance
With keen foresight and intuition, the founders of All-Pro Services, Inc. built the company from the ground up with a vision of superior customer service based on long hours, hard work and dedication.
Their efforts have paid off in the form of a company that has become a leader in the community, earning not only the respect of the people it serves, but also the admiration of its vendors and peers in the industry.
Our Mission
At All-Pro Services, our mission is to go above and beyond what has come to be accepted as the "norm" in customer service. We feel we can do better with satisfying our residential customers – and we have.
We employ only the most qualified technicians in the industry and only those team members who meet the same high standards and strong work ethic as our dedicated founders. Our team is hand-selected and trained to reflect the values and exemplary performance of All-Pro Services.
We expect, and deliver, quality care and devotion to detail in every job performed. Your approval is just as important as the system or service being performed. Our job is not complete until we have achieved 100% customer satisfaction. And that's a guarantee you can rely on!
Today, it can be hard to find trustworthy technicians for servicing our heating, cooling and plumbing systems. Give us the opportunity to prove that dependable, expert service is still around! Don't just take our word for it; click here to hear it from the customers who have already experienced the All-Pro Services difference.
Experience All-Pro Services for Yourself!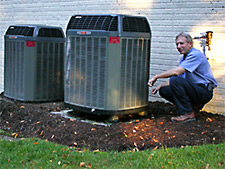 If you are in need of heating, air-conditioning or plumbing services in the Washington, DC or Maryland areas, call us today at (301) 808-6800 to experience All-Pro Services for yourself. You can also click here to contact us online to request service.
You are our #1 priority. Give us a call today and let our team of experienced, knowledgeable technicians show you what quality service is really about!

Return to the All-Pro Services Homepage